Safety Razor For Women Guide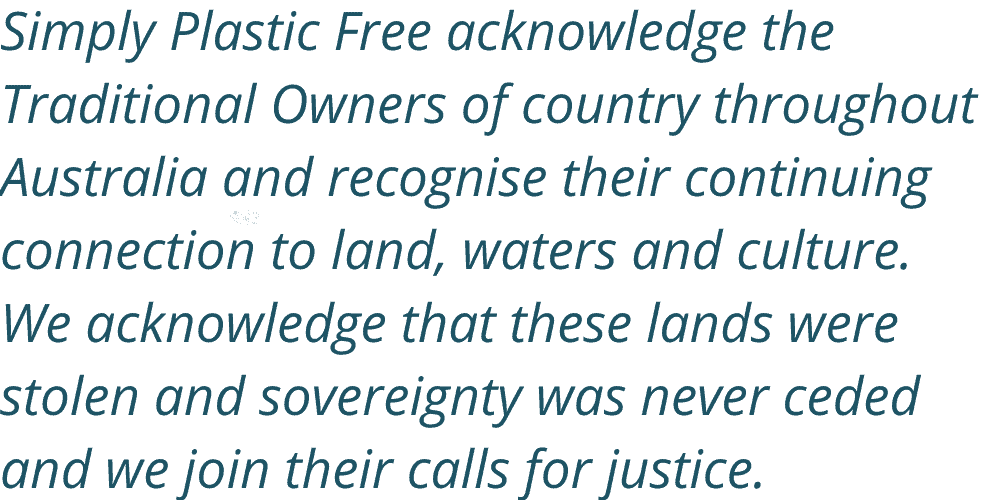 Guide To The Best Safety Razor For Women In Australia
Let's start with the fact that women's beauty standards are, quite frankly, BS. Hair is a natural part of being human, and there's no obligation to remove it. However, if you prefer a shaven look and want to do it without contributing to plastic waste, then a safety razor is a great investment. Not only does it offer a precise and smooth shave, but it's also a more sustainable and cost-effective option than disposable plastic razors. Let's take a look at the best safety razors for women.
Invest in A Quality Safety Razor
At Simply Plastic Free we support sustainable businesses for all our eco-conscious needs. There are loads of rip-off brands offering 'sustainable' alternatives, but are made with cheap nasty and sometimes damaging materials. Since a razor is used on your body, shopping for a quality razor is important and will be one of the best investments made. I have added our favourite sustainable brands below to make the buying process a little easier. Doing your research and finding a good quality razor will help with that close shave without compromising your skin health and integrity.
When looking for the best safety razor for women we recommend shopping with Biome, The Wells Store and Earths Tribe. They have a range of safety razors I have used and trust.
My Experience Using A Women's Safety Razor
When I first transitioned to a safety razor, I was nervous and scared of the sharp blade. I also cut myself a lot!!! After a while, I got the hang of it and now I can't imagine my life without it. Firstly I don't shave every day. Lucky for me my hair doesn't grow fast enough. I currently use the Earths Tribe Safety Razor and I love it. I make sure to let it air dry between each use and store it in a safe place away from children.
I have used my safety razor for over 3 years now and I am still on the first packet of blades. Like I said my hair really doesn't grow that fast and I only shave if I really have to, as I believe hair is a natural part of the body and I shave for me and no one else. So for me, the investment has more than paid for itself. Even if you do use your blade regularly you are still saving and stopping unnecessary plastics ending up in our landfills and oceans. The Earths Tribe Safety Razor is definitely one of the best safety razors for women in Australia.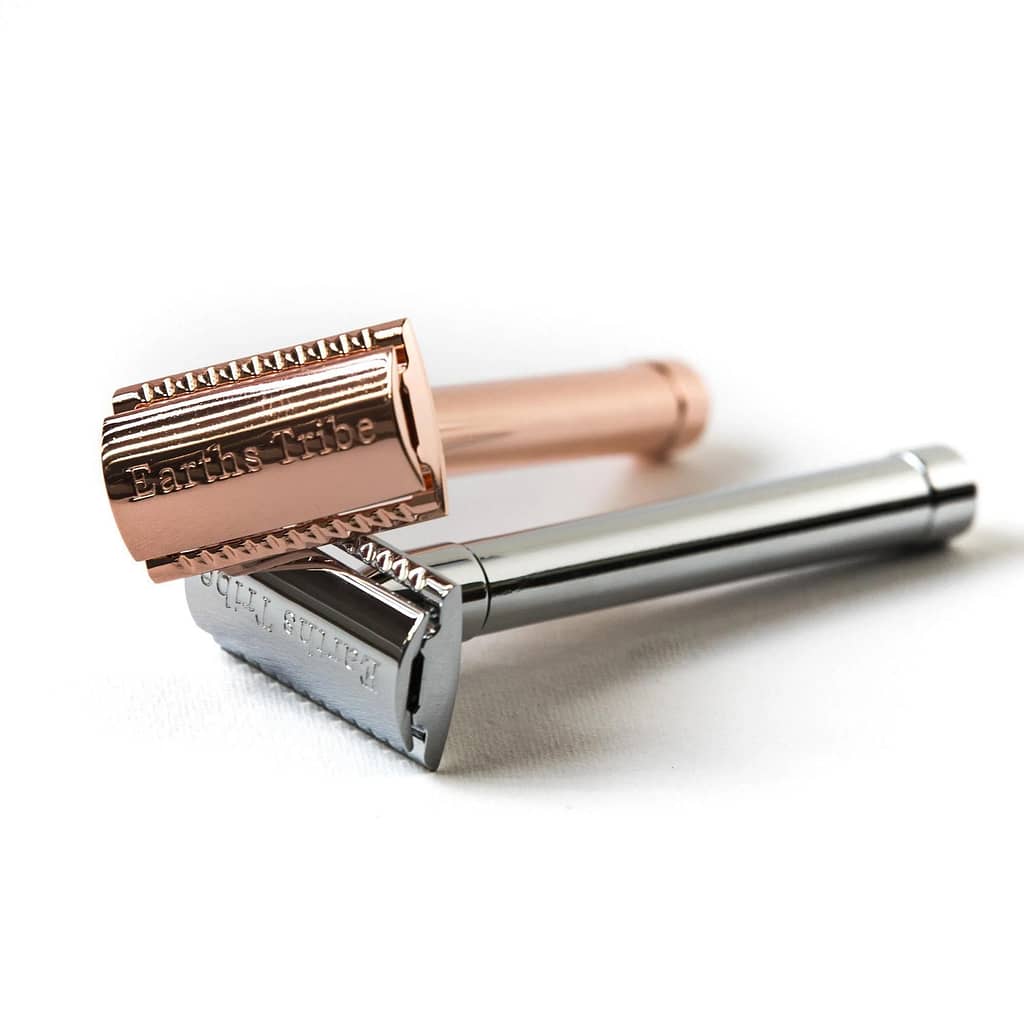 Safety Razor Care
If you buy a quality safety razor, it is likely you will be spending a bit of money on it. Taking care of your razor is not only hygienic but will allow it to last your lifetime. Air out your razor after every use. Allowing your razor to dry will stop the blade from rusting and the razor from tarnishing. The razor itself will be stainless steel and won't rust however most blades are not and will rust if they sit in water. If your blade does rust just remove the blade carefully, give your razor a good wipe and soak it in boiling water. remove and let the razor dry completely before adding a new blade.
If you use your razor every day it is best to change out the blade every 2-3 weeks. A sharp blade will allow for a smoother shave and won't damage your skin a blunt blade is likely to contribute to ingrown hairs and razor rash. Checking your blades regularly will help with their maintenance.
Don't forget to store your razor and blades in a safe spot away from children. Store your razor and blades in the cabinet or on the razor stand away from the reach of children. Another factor to consider when you own a safety razor, the blades cannot be taken on the plane as carry-on luggage. You must put your razor and blades in your checked-in luggage or your items will be removed at security and unfortunately, you won't get them back. Which is a good investment lost. So when packing your toiletries, make sure to store your safety razor in your checked-in luggage!!
Buying Your Safety Razor
Safety razor's pricing can range from $30 through to $150 and even more. The Well Store has the Bare & Co. Traditional Double-Edged Safety Razor in the colours Rose Gold, Silver and Gunmetal for $30. I have used this brand and it works perfectly on my skin. It offers a really close shave without causing any damage to my skin. The only thing I found slightly difficult and I mean minute, it really isn't a big deal. If my hands are slippery the smooth handle is difficult to grip, so this razor is best used with non-soapy hands.
I currently own and use the Earths Tribe Safety Razor in Rose Gold which is valued at $45. This is the razor I have had for over 3 years! She works beautifully, the handle has a little lip at the base which stops my hand from slipping down. other than getting used to using it, I haven't had any issues so far.
If you really want to go fancy and all out you can try the Leaf Shave Safety Razor valued at $159!! Biome has a special on at the moment with this razor discounted to $135.15. I have never tried this brand, but I have heard great things about them and hear they provide a really close shave (as you can put up to 3 blades in and it has a pivoting head) and you can go a few extra days between shaves. The Leaf Shave Razor has accessories which include a stand, carry case and a silicone grip which you can put onto your razor handle for easier grip.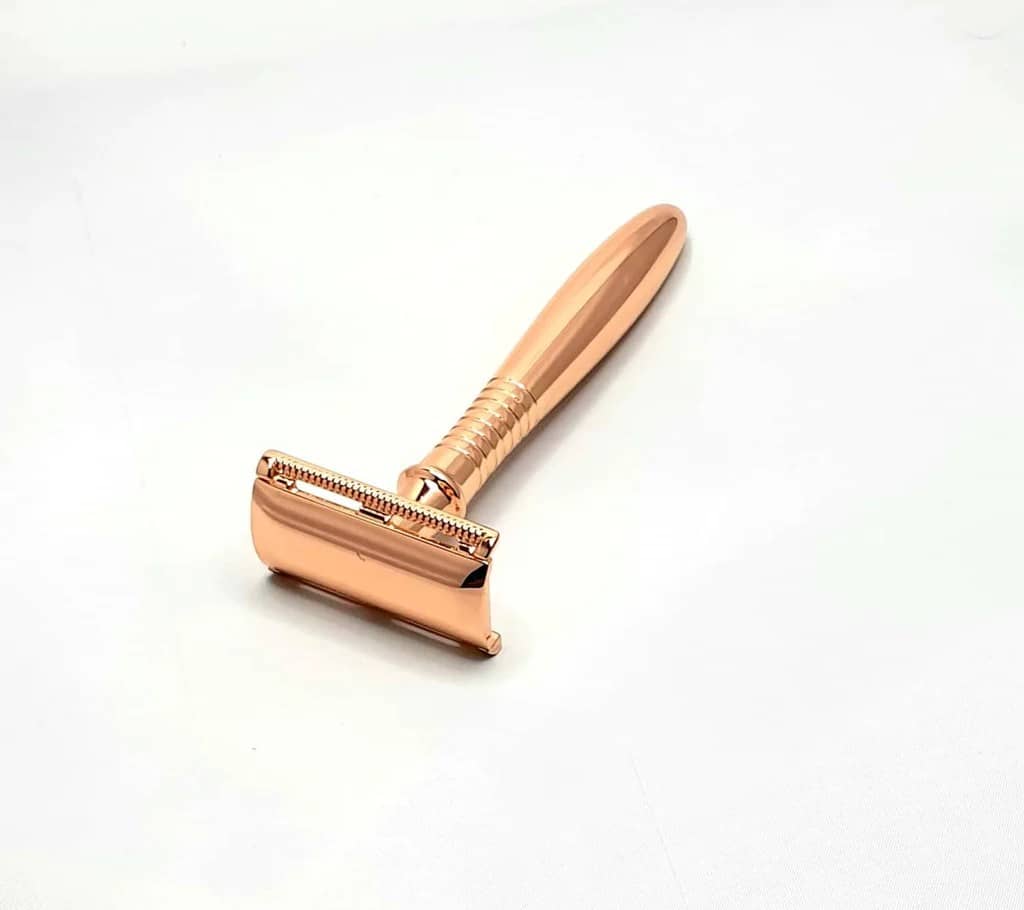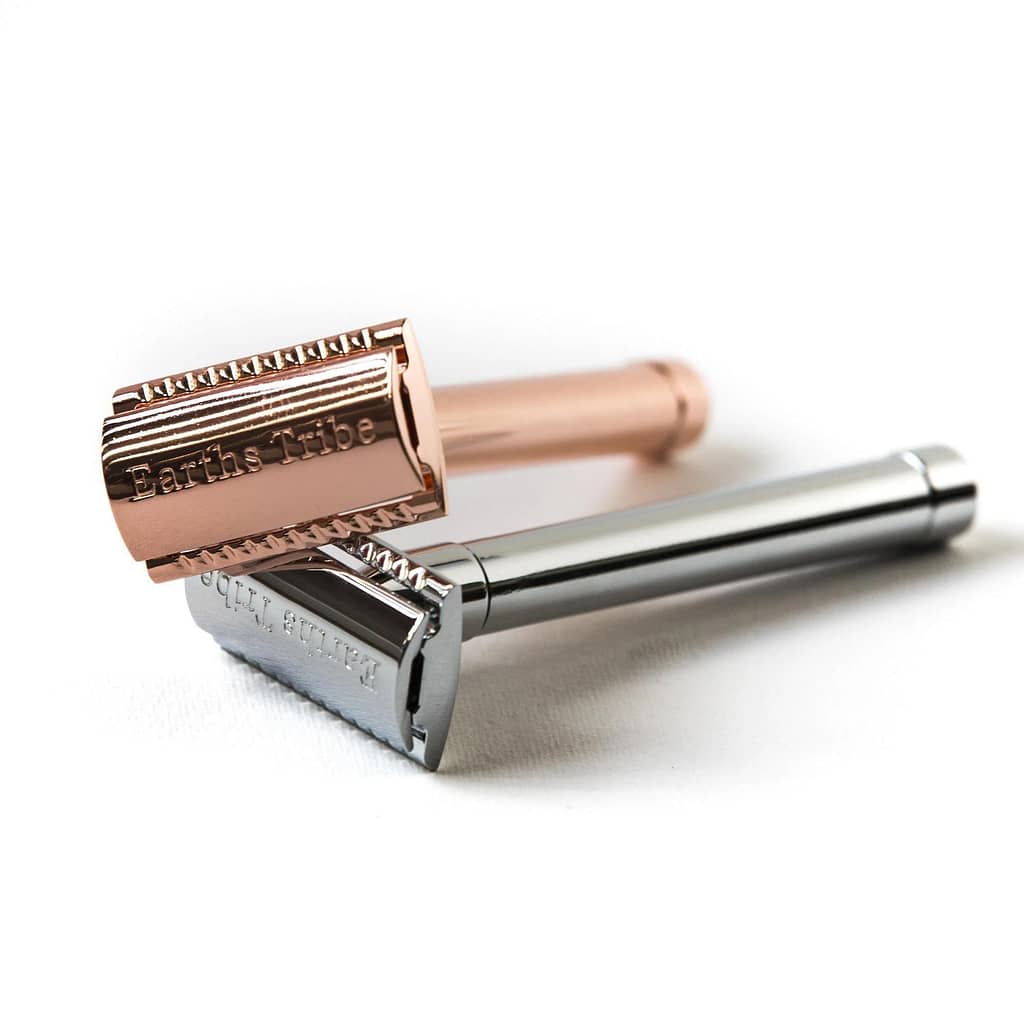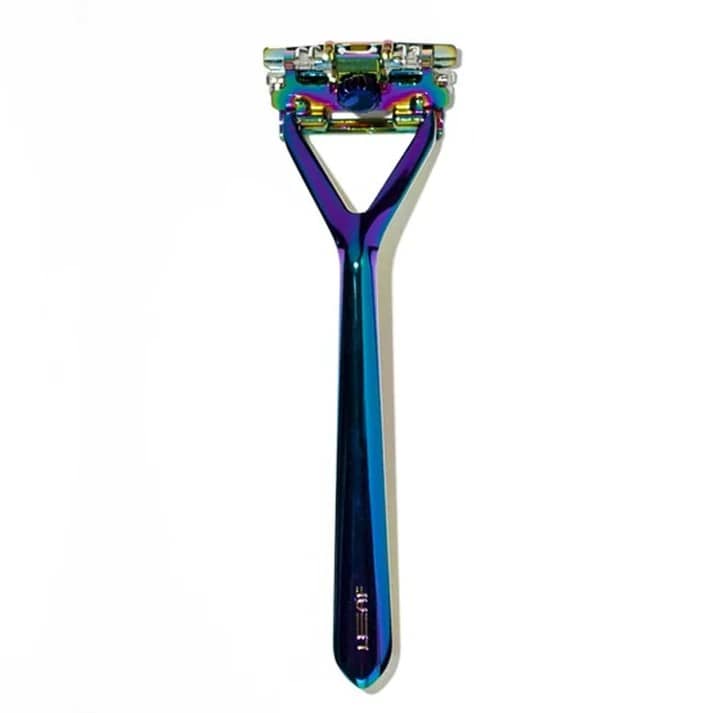 Buying Replacement Safety Razor Blades
Most razors will come with at least one blade. Some may come with a pack of 5 or 10 blades. When you need to buy more blades you can usually buy them in packs of 5 or 10 blades at a time. these can roughly cost from $3-$10 per pack. So depending on how often you shave and how well you take care of your razor and the blade you can get quite a few months out of your blade and years out of your razor.
Is shaving with a safety razor better?
I believe it is better to shave with a safety razor. Not only are you having a huge environmental impact by only purchasing one razor. You are consciously making a statement and demanding more sustainable beauty products. The stainless steel razors are durable and less likely to snap or break.
Making the Sustainable Switch
For those ready to make the sustainable switch and ditch the disposable, the journey towards a more eco-friendly shave doesn't have to be daunting. To learn more about the advantages of a reusable razor over a plastic one, visit our comprehensive guide: Reusable Razor vs Plastic Razor. Here, we delve into the environmental impacts of plastic razors and explore the long-term benefits of going reusable. Join the movement towards a cleaner planet and a cleaner shave – your skin and the Earth will thank you.
Would you switch to a reusable Safety razor?
Have you made the switch to a safety razor, or are you contemplating it? We'd love to hear about your experiences, thoughts, and any questions you might have. Your journey towards a more sustainable shave could inspire others to rethink their habits and join in on this positive change.
Share your story, and let's cultivate a community that supports each other in making choices that benefit both our skin and the environment. Drop us a comment, send us a message, and let's keep the conversation going towards a cleaner, greener future.